EXCELLENCE in GRAPHIC LITERATURE – the name of this award speaks volumes to where we are with comics as a medium and its acceptance as literature.  In the late summer of 2018, I was asked by several colleagues to be head judge in the Excellence in Graphic Literature Awards Young Adult Category run by the inspiring folks at Pop Culture Classroom and hosted by the Denver Pop Culture Con. I knew of the awards, having attended the inaugural awards ceremony in 2018, and was honored to play an active role in the second awards process. (Feel free to go past my reflection on the ceremony and process to look at the award finalists and winners). Let me first say that I am posting this as an individual and not officially on behalf of the organization, but as an individual and personal reflection. Deciding the winners was not easy and all of the finalists truly deserve a place in libraries and classrooms. Each category had over 50 submissions (we read and scored A LOT of graphic novels!) and so many of the titles should have made it into the finals; this speak volumes to the amazing depth and breadth of the graphic novel medium! I am thankful to all of the publishers and creators who submitted their books for review. Think about the graphic novels YOU are reading/creating this year – please urge the creators of your favorite 2019 books to submit for next year's awards! I was disappointed that some of my favorite titles of 2018 were not submitted for the awards. You can't win if you don't submit!
The juries were made up of professional librarians and educators – people who understand the powerful impact of graphic novels on our students and patrons of all ages. In order to keep the judging free of bias, the head judges were given the names of those on their juries, but the jurors themselves did not know who the other jurors were, nor did the chairs know who one another were. Tara Bannon was the person who held everything together as she was in charge of everyone and directed us all on our journey. She tirelessly answered all of our questions and offered encouragement as we read and scored so many wonderful books in a short amount of time. As directors at Pop Culture Classroom, Katie Monnin and Adam Kullberg were also crucial to the success of the process throughout the year.
Pop Culture Classroom is such an inspiring organization full of people who fully understand the value of comics in education. They are the force behind Denver Pop Culture Con and organize all of the educational programming offered at the convention every year. I was on multiple panels and sat in on others and was constantly getting new ideas and titles to use in my classroom. One of my favorite moments was being on a panel with some of my comics heroes – Fred Van Lente and Ryan Dunlavey. I have used their Action Philosophers book in my AP Euro and my World History courses. My son absolutely LOVES their Action Presidents and has read the books many, many times – sharing them with great glee in school. The history in these books is accessible, hysterical, accurate, and allows the reader to see the "Great People" of history in a human and personal way. While they did not win in their category during the awards, they were deserving finalists and winners in my heart.
I was also finally able to meet the other judges and made many new friends at the convention as we presented together. All of this culminated in the awards ceremony on Saturday night and this was open to anyone who attended the convention!
I was the head judge for the Young Adult Category and we read over 50 books. It was tough to read through all the rubrics from all the jury members, and then tallying up the scores to determine the winner. On the rubric, we needed to take into account the educational possibilities of each for the classroom – unique to anything I have seen in the comics world! It was wonderful to see the differing opinions from each juror in the rubrics about the meaning of each title and how it can be used in the classroom. Thank you Pop Culture Classroom for helping further the legitimacy of comics in education.
I LOVED reading that Jarrett J. Krosoczka's Hey, Kiddo was the YA Nonfiction award – it was a secret that I had been anxiously wanting to share with everyone! This book has been borrowed by so many of my students as the truth Jarrett shares resonates with us all. This is a must-read book.
Here is the speech I gave at the ceremony before introducing the finalists and winners – I will let my words speak for themselves on my feelings about the award itself and the power of comics.
"Working with the folks of Pop Culture Classroom and the jurors of the Excellence in Graphic Novel Awards has been an honor, a lot of hard work, a lot of great reading, but ultimately an honor. My own children LOVED all 50 of the graphic novels, yes 50, sent my way to read, and it speaks much to the power of this medium for literacy. The books I was blessed to read really speak to the many genres that are available in this visual literacy medium. This category was comprised of fiction and non-fiction, sci-fi and futuristic, historical and current events of world importance, intimate biographies, travelogues, adaptations of classic stories, and so many also demonstrated the importance of representation and inclusion. They made me laugh and cry, look to the past and wonder about the future, and they all enabled me to see the brilliant characters on a personal level while experiencing the story through their eyes – and this truly is the power of comics. The decision to choose a winner was not an easy one for our Young Adult jury and I am so very thankful for the diligence and hard work from each member of the jury. We each brought our own experiences into these books and often had different take-aways from the stories – which is always great to show students how graphic novels are open to interpretation as visual literacy. The winning entry did stand out, however, as a book that, while devastatingly honest and emotional, allowed us to see the core of humanity and to offer hope despite tragic adversity. I am honored to have been a part of this journey and I truly believe that these stories stand out as the award title suggests –as showing EXCELLENCE in Graphic Literature. And that's what these books are – deep and meaningful literature that not only deserve a place in the classroom and library, but in the world for they will truly change lives."
If you have any questions or would like more information, please feel free to contact me.
During one of the panels, I was asked what books I would have liked to have made the finals that did not —
WaterSnakes by Tony Sandoval. A Flower in a Field of Lions by Tyler Button. Amazing books.
Category judges:
EGL 2019 Children Category
EGL 2019 Middle-Grade
EGL 2019 Young Adult
EGL 2019 Adult
2019 Children's Fiction Finalists 
The Dragon Slayer: Folktales from Latin America by Jaime Hernandez and published by Toon Books
Small Things by Mel Tregonning published by Pajama Press
Dog Man: Lord of the Fleas by Dav Pilkey, Scholastic.
Petals by Cris Peter and Gustavo Borges, Boom! Studios.
Tiger Vs. Nightmare by Emily Tetri, :01 First Second.
Winner:
2019 Children's Nonfiction Finalists
Snails Are Just My Speed! Kevin McCloskey. Toon Books.
We Are All Me. Jordan Crane. Toon Books.
Little Tails. Frederic Brremaud and Frederico Bertolucci. Lion Forge.
The Eye That Never Sleeps. Marissa Moss and Jeremy Holmes. Abrams ComicArts.
The Mushroom Fan Club. Elise Gravel. Drawn and Quarterly.
Winner:
Middle-Grade Books Fiction:
Crush. Svetlana Chmakova. Yen Press.
Be Prepared. Vera Brosgol. 01: First Second
The Hidden Witch. Molly Knox Ostertag. Scholastic.
Sheets. Brenna Thummler. Lion Forge.
The Cardboard Kingdom. Chad Sell. Random House.
Winner:
Middle-Grade Nonfiction
Stinky Cecil in Mudslide Mayhem! Paige Braddock. Andrews McMeel.
Lafayette: A Revolutionary War Tale. Nathan Hale. Abrams ComicArts.
The Faithful Spy: Bonhoeffer and the Plot to Kill Hitler. John Hendrix. Abrams ComicArts.
Action Presidents #1: George Washington. Fred Van Lente and Ryan Dunlavey. Harper Collins.
Ocean RenegadesL Journey Through the Paleozoic Era. Abby Howard. Abrams ComicArts.
Winner:
Young Adult Fiction (I was chair of this category)
Monstress Vol. 3. Marjorie Liu and Sana Takeda. Image.
The Prince and the Dressmaker. Jen Wang. 01: First Second.
Illegal. Eoin Colfer and Andrew Donkin. Sourcebooks
Manga Classics: Macbeth. Crystal S. Chan. Udon.
On a Sunbeam. Tillie Walden. 01: First Second.
Winner: 
Young Adult Non-Fiction 
Anne Frank's Diary: The Graphic Adaptation. Ari Folman. Penguin Random House.
Grand Theft Horse. Greg Neri. Lee and Low Books.
Strange Fruit, Vol. 2; More Uncelebrated Narratives From Black History. Joel Christian Gill. Fulcrum Publishing.
Hey, Kiddo. Jarrett. J. Krosoczka. Scholastic.
Unwanted: Stories of the Syrian Refugees. Don Brown. Houghton Mifflin Harcourt.
Winner: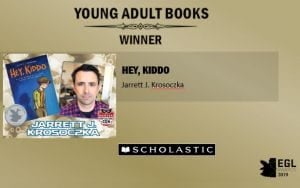 Adult Fiction
A Sea of Love. Wilfred Lupano and Gregory Panaccione. Lion Forge.
Infidel. Pornsak Pichetshote. Image.
Exit Stage Left: The Snagglepuss Chronicles. Mark Russell and Mike Freehan. DC Comics.
Berlin. Jason Lutes. Drawn and Quarterly.
Upgrade Soul. Ezra Claytan Daniels. Lion Forge.
Winner: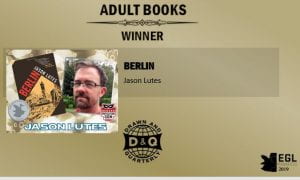 Adult Nonfiction 
Brazen: Rebel Ladies Who Rocked the World. Penelope Bagieu.
Algeria is Beautiful Like America. Olivia Burton and Mahi Grand. Lion Forge.
Escaping Wars and Waves: Encounters with Syrian Refugees. Olivier Kugler. Penn State.
All the Answers. Michael Kupperman. G 13.
Monk! Thelonious Pannonica, and the Friendship Behind a Musical Revolution. Youssef Daoudi. 01: First Second.
Winner
Mosaic Award Winner – chosen from among all categories. 
Book of the Year Winner – chosen from among all categories.